Birmingham council care cuts 'frighten me to death'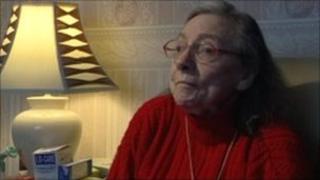 A 74-year-old widow with cerebral palsy is worried that Birmingham City Council cuts will mean the loss of carers who are her only lifeline.
Falling on an uneven pavement in 1981 left Doreen Greenhill unable to walk.
She was born with cerebral palsy, which limited her movement on the right hand side of her body, but until the accident she had been able to lead an independent life.
From her flat in Kings Norton, Birmingham, she held down a job packing car parts and, with her elder sister, helped to care for their sick mother Ivy Scranage.
Now it is Mrs Greenhill, 74, who relies on a carer to visit four times a day, to take her to the toilet and help to wash and feed her.
"We're all so worried that with these cuts they will take away our care.
"If they do, I might as well take a gun to my head as there would be no point in carrying on," she said.
'All alone'
Birmingham City Council is making multimillion-pound cuts to its adult and communities department and Mrs Greenhill has been told parts of her care, such as meals, could be stopped.
"If they stop giving me someone to cook my meals I would starve. There's no-one else who can help me.
"Everyone at the cerebral palsy centre says the same."
Her elder sister Iris Greaves, 79, lives further down her road in Tyseley, Birmingham, but is unable to visit due to her own poor health.
"If it weren't for the carers I would be all alone," Mrs Greenhill said.
After the fall in December, 1981, Mrs Greenhill's fiance Michael left his job to become her full-time carer.
"Even then we coped. He didn't have any respite care. We just got on with it, by ourselves. We've never asked for anything we aren't entitled to."
When Mr Greenhill died of colorectal cancer on 22 August 2009, she found herself completely dependent on social services for the first time in her life.
'Wish to pay'
"I can't even go to the toilet without help, I have to wait until someone comes now."
With the stress of bereavement her health deteriorated and she had a series of mini strokes.
"I say to God and to Michael, because I still talk to him, when is this going to end?
"I wish I could pay for private care myself. If I could do you think I would be relying on social services?"
She currently pays £25 per week out of her pension and disability allowance for daily care and two weekly visits to a cerebral palsy day centre.
Mrs Greenhill said she had been told by doctors that her high blood pressure and general health had worsened to such an extent she required more than four hours care per day.
Her social worker has told her she is unlikely to receive it because of the funding cuts.
She said she had been told that parts of her care were deemed "critical", like washing, and would not be affected.
Birmingham City Council said it planned to reduce care services for about 4,000 people in the next three years.
The Conservative-Liberal Democrat coalition said it needed to make £118m of cuts from its adult and communities directorate by 2014-15.