National Youth Theatre appeals for past Olympic stories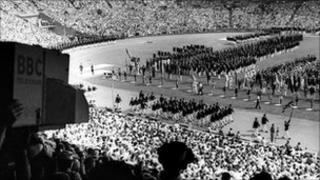 A theatre group is appealing to people in the Black Country for stories and memories of the 1908 and 1948 London Olympics for a new heritage project.
The National Youth Theatre (NYT), which has a base in Brierley Hill, wants to celebrate the area's "significant" links to the Games.
The NYT will use the stories to shape a "large-scale" performance in the summer at the Black Country Museum.
The project will culminate in 2012 with a 1948-style street party.
"Rich Olympic heritage"
The NYT said the West Midlands had a "rich" Olympic heritage and gave the example of Dudley resident Victor Johnson who worked at Rover Bicycles.
He won gold at the 1908 Olympics in the 660 yards cycling event before returning to the factory to continue making bicycles.
The theatre group is now hoping that people will contribute their stories about the Games.
Artistic director of the NYT, Paul Roseby, said: "Their stories and recollections may be used as springboards to shape characters and help create the storyline of the piece."
He said it would allow them to "theatrically explore the Black Country's strong ties to the greatest show on earth - from makers of medals to the medal-winning athletes themselves".
Heritage grant
The project is called White City/Black Country, White City being the venue of the 1908 games.
It has been awarded a £50,000 grant from the Heritage Lottery Fund.
Head of the fund in the West Midlands, Anne Jenkins, said: "The return of the Olympics to the UK in 2012 provides the perfect opportunity for us to reflect and celebrate our sporting heritage.
"Through collecting, exploring and sharing the stories of Olympians from the West Midlands, these young people will create a lasting record of this important part of our social history."
People can share their memories or family stories by emailing helen.temple@nyt.org.uk or writing to the National Youth Theatre, 52 Bermondsey Street, London SE1 3UD.