London Olympics ambition for gymnast Kristian Thomas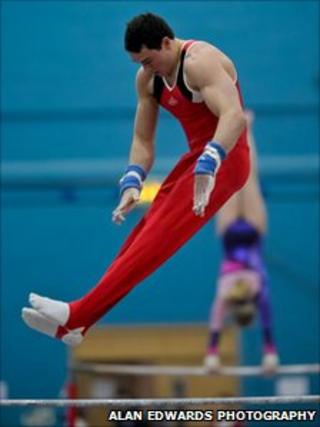 A Wolverhampton gymnast has been talking about what it takes to compete at Olympic level as he sets his sights on selection for London 2012.
Kristian Thomas was part of the British team that took silver at the 2010 European Championships in Birmingham.
The 22-year-old said he spent 25 to 30 hours a week in the gym. "It's what we have to do to be competing at the highest level," he added.
He told BBC WM that "his main aim now is for the 2012 Olympics".
Reigning English champion in all around gymnastics, Thomas started out in the sport when he was five and is a member of Earls Gymnastics Club in Halesowen.
Hours in gym
Competitors in the all around category perform on six different pieces of apparatus and are judged on a combined score for all the events.
In 2009, Thomas finished 6th in the all around competition at the World Championships.
"From a young age, we were always persuaded to try and do the all around because it would fit better for selection for team competitions for Great Britain," he said.
Training six days a week, he said to compete at elite level "we need to be putting in the hours in the gym, there's no two ways about it really".
But other factors are important too.
"It's making sure we eat properly and having a fairly strict diet and regime for eating but the main important thing is rest, making sure the time that you're not in the gym you're maximising your rest periods," said Thomas.
Great Britain has to qualify for one of 12 places in the gymnastics team event at the 2012 Games.
Thomas said their "main opportunity" to secure a place would be at the World Championships in Japan in October.
He said: "If we can qualify in the top eight in that team competition, then that definitely means that we've got a team place at the Olympic Games."
The remaining four team places will be decided at a competition in London in January.