Birmingham City University new campus is back on track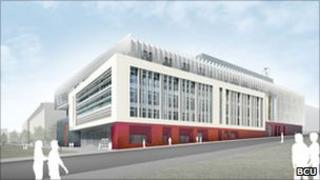 Birmingham City University's plan for a new campus is back on track after the proposed new high-speed rail link (HS2) meant it had to find a new location.
Its original scheme was based on a city centre site but this has been earmarked for a new HS2 station.
Now plans have been put forward to develop on a different plot in the Eastside area.
The proposals will be presented to Birmingham City Council next week.
The "flagship" campus was originally proposed for Bartholomew Street in the Eastside area of Birmingham but plans had to change when the preferred route of the rail link to London was announced.
'Landmark' facility
Now a new agreement has been reached between the university, property group Goodman and Advantage West Midlands.
Land for the new campus will be provided at the junction of Curzon Street and Cardigan Street.
Vice-chancellor at Birmingham City University, Professor David Tidmarsh, said he was "delighted" by the development.
"This new campus will be a landmark facility not only for us, but for the city and the region we serve."
Councillor Tim Huxtable, council member for regeneration, environment and transport, said: "The two developments will complement each other very well and underpin the future growth and prosperity of the entire area," he added.
The university has already revealed plans to relocate its Birmingham Institute of Art and Design to a purpose-built facility on an adjoining site in Eastside for which planning permission has already been granted.
Work is expected to start on that development in August and it is due to open in 2013.