City Pastors on patrol in Birmingham city centre street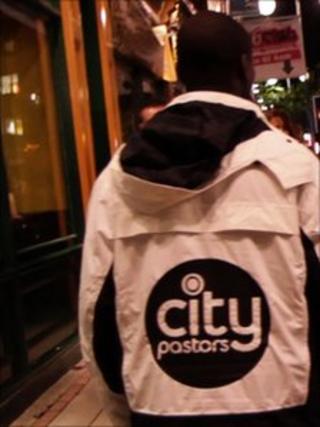 Local churches in Birmingham have set up a scheme where volunteers offer advice and support to late-night city centre revellers.
Called City Pastors, they patrol Broad Street and are on hand to assist people, whether it is giving directions or helping them into taxis home.
The project is running initially on Friday nights between 2200 and 0300.
City pastor Jo Jowett said they were there to support police and street wardens.
'Different dimension'
She said: "I think the City Pastors bring a different dimension to what's already in the mix and happening on Broad Street.
"City Pastors can just get alongside people if they need any help in any way, it may be just helping point people in the right direction...or [helping] people that have sometimes had too much to drink."
She said the scheme had been "warmly received so far".
"It's just been so exciting for us as volunteers from local churches to be working together and making a real contribution to the life of the city," said Mrs Jowett.
Mike Olley, manager of the Broad Street Business Improvement District ( BID), which represents businesses in the area, said: "The City Pastors scheme has already given Broad Street over 1,000 additional hours of a respected, safe and welcoming presence for our visitors and has received much positive feedback.
"We welcome them and their efforts to Broad Street and the support they give is a fantastic addition to the area."