Birmingham Six anniversary marked by 'injustice' march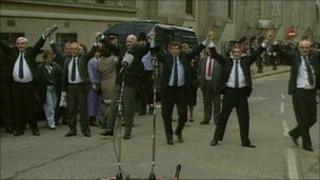 It is 36 years since the start of the trial of the Birmingham Six but, despite the setting up of a body to stop further miscarriages of justice, a protest group says there are more innocent people behind bars in need of help.
Protesters marched to the offices of the Criminal Cases Review Commission (CCRC) in Birmingham on Thursday to highlight those cases they say exist where justice has not been done.
The commission deals with 1,000 applications a year and is to many the last port of call when appeals against conviction have been refused by the courts.
Neelam Bi's father Mohammed Arif, 46, is currently serving a 15-year sentence in prison after he was convicted of attempted murder and wounding in August 2009.
His case is being looked at by the CCRC after he applied for a review on 17 May.
Criminals 'loose'
Justin Hawkins, spokesman for the CCRC, said: "We have made an initial assessment of Mr Arif's application and aim to begin a full review of his case in the next few weeks.
"We cannot comment further in relation to an ongoing case."
But Ms Bi thinks the problem lies with the criminal justice system.
She said: "After seven years a prisoner can be released on license but my father says 'I'm not willing to take it'."
She says the problem is that to be released on license he would first have to accept he is guilty - something he denies.
"We want the criminal justice system to make changes - there are innocent people behind bars but people responsible for crimes are loose."
'No remorse'
Lorna Gregory will be going on the march for her brother Jaslyn Smith, 46, who is from Dudley.
He was convicted of rape in 1998 and sentenced to three-and-a-half years.
But his sister says that because he refuses to to do any courses on addressing offending behaviour he is viewed as having shown "no remorse" and remains in prison after 13 years.
His case has been reviewed twice by the CCRC in 2001 and 2004 but it has not been referred back to the courts.
Ms Gregory said: "I'm marching to represent my brother and our anger and frustration that if he'd pleaded guilty he'd be out in three-and-a-half years.
"Will they keep him in for the rest of his life? Where will it end for my brother?"
The CCRC was set up by the Royal Commission in response to a number of high profile miscarriages of justice including the Birmingham Six.
Paddy Hill, Gerry Hunter, Johnny Walker, Hugh Callaghan, Richard McIlkenny and Billy Power were freed on 14 March 1991, their innocence finally proved.
Their convictions for the murders of 21 people in two pub bombings were quashed after they had served nearly 17 years behind bars.
The commission has had a number of successes including the Leyland robbery case in 2006.
David Murphy and Patrick O'Toole were jailed in 1978 following an investigation by the then West Midlands Serious Crimes Squad.
The men were originally found guilty of armed robbery at a British Leyland plant in Birmingham.
But after a referral by the CCRC the pair's convictions were quashed by the Court of Appeal.
'Early release'
Other well known referrals include Barry George, who was found not guilty of murdering BBC television presenter Jill Dando outside her London home, and George Davis, who won an appeal last month against his conviction for armed robbery and wounding in 1974.
But campaigners say there are still innocent people behind bars.
Protest group West Midlands Against Injustice was set up by Melda Wilks.
Her son, Ricardo Morrison, is currently serving a life sentence for the murder of his girlfriend Amy Leigh Barnes in 2008.
He has unsuccessfully appealed and had his application for a case review turned down by the CCRC last month.
Ms Wilks, a former police officer, who was herself found not guilty of assisting her son in the disposal of evidence, said: "I'm highlighting not only my son's case but several cases of people in prison for crimes they haven't committed.
"The government is talking about early release for those who plead guilty.
"They want innocent people to plead guilty to a crime they haven't committed."
In a statement the CCRC said: "We welcome any public engagement with issues of wrongful criminal convictions.
"Without public campaigning of this kind there would not be a Criminal Cases Review Commission so obviously we support absolutely the right to march, protest and campaign about alleged miscarriages of justice."