March to highlight miscarriages of justice cases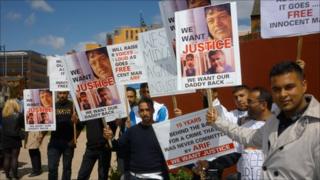 A march and protest has been held in Birmingham to highlight "miscarriage of justice" cases.
Those taking part marched through the city and stopped outside the offices of the Criminal Case Review Commission.
It was held on the anniversary of the start of the trial of the wrongly convicted Birmingham Six in 1975.
Organiser Melda Wilks said she had not expected so many people, about 150, to turn up.
Ms Wilks is the mother of Ricardo Morrison, who is currently serving a life sentence for the murder of his girlfriend Amy Leigh Barnes in Farnworth, Greater Manchester, in 2008.
He has unsuccessfully appealed and had his application for a case review turned down by the CCRC last month.
She said the event has made her realise there are more families in a similar situation.
"There are more families who are quiet so I am not just here for myself but for those people."
The Birmingham Six were wrongly convicted of the Birmingham pub bombings and were released from jail in 1991, after serving 16 years.
The CCRC was set up by the Royal Commission in response to a number of high profile miscarriages of justice including the Birmingham Six - Paddy Hill, Gerry Hunter, Johnny Walker, Hugh Callaghan, Richard McIlkenny and Billy Power.