Birmingham Symphony Hall wins city's Forward Prize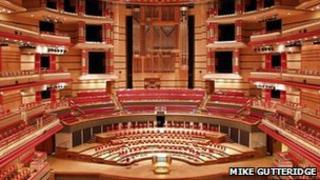 Symphony Hall in Birmingham has been awarded the "prestigious" Forward Prize by the city's Civic Society.
The award has been presented in recognition of the hall's "significant contribution" to the city in attracting visitors and engaging local residents.
It has only been awarded 23 times in the society's 93-year history.
Hall bosses, who described winning the award as a "great honour", are preparing to celebrate its 21st birthday next year, with a festival.
Chairman of the Birmingham Civic Society, David Clarke, said they were "delighted" to be awarding the "prestigious prize" to the hall.
'Incredible contribution'
"The organisation has made an incredible contribution over the past 20 years, encouraging the participation of tens of thousands of young people and running a programme of events that has something for everyone in the city without ever compromising of excellence," he said.
Symphony Hall opened in 1991 and is now managed together with Birmingham Town Hall as a registered charity.
Andrew Jowett, director of the venues, described the award as a "great honour".
"Our aim is to offer an exciting and varied programme of events to welcome everyone, to provide a platform for local, national and international performance and to offer inspiring community engagement projects for people of all ages," he said
Named after the City of Birmingham's "Forward" motto, nominations for the prize can be suggested by anyone.
Prison awarded
The nominations are then researched by Birmingham Civic Society and then considered by the organisation's Board of Trustees.
It was last awarded in 2006, to the Reverend Tom Pyke and St Paul's Church, in the Jewellery Quarter.
Other recipients include the City Police panda car scheme, which won the accolade in 1968, Winson Green prison visitors' centre, which got the award in 1990 and the National Trust and Birmingham Conservation Trust, in 2004.
Symphony Hall, which will mark its 21st anniversary with a festival running from January to June 2012, will receive a plaque to put up in its foyer.