Walsall widow 'targeted' by son's £4k social care bill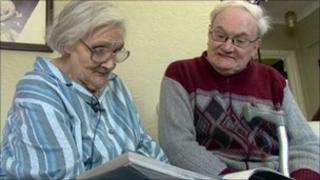 An 84-year-old widow from the West Midlands said she was "disgusted" she had been given a £4,700 bill by the council to care for her disabled son.
Lillian Henderson helps care for her son Ian who had a stroke 13 years ago and has 10 hours' paid care per week.
Their income has not changed but they have been asked to make contributions.
Walsall Council said it had brought in a new charging policy. It has to save £7m in the next 12 months but said care for vulnerable adults would not be cut.
Mrs Henderson has health problems herself and until last year her son Ian received income support and now receives disability benefits.
She said she was struggling to meet the new care contributions on their incomes and she has contacted her MP David Winnick.
'Vulnerable targeted'
She said: "I was quite angry. I thought something's got to be done about it. If I'm in these circumstances, quite a lot of other people are, so I wrote to Mr Winnick."
Mr Winnick, Labour MP for Walsall North, raised their case in the House of Commons on Thursday.
He said: "Why are the most vulnerable being targeted by this Tory government and Tory councils?"
The Conservative leader of the House of Commons, Sir George Young MP, said: "I disagree with the honourable member's assertion that we are targeting the most vulnerable. On the contrary, we have allocated an extra £2bn for social care and through the NHS precisely aimed at the cases he is referring to."
Mr Henderson was employed as a porter until he was stabbed 13 years ago on his way to work.
Electricity savings
Following the attack he had a series of strokes and his mother, with whom he lives, is helping to teach him to read and write and cook again.
She said: "I've got to try to teach him things so that if anything happens to me, which it will do, then he will be able to look after himself."
She said they had made savings where they could to try to raise the money to pay the council care bill but were struggling on her son's disability benefits and her pension.
"We don't have the light on unnecessarily, we don't put the kettle on as much as we used to. All things like that are to do with electricity and gas," she added.
Walsall Council, a unitary authority which is run by a Conservative minority, said the new charging it had introduced was in line with other local authorities and followed national rules to ensure people still had enough money to live on.
It invited the Hendersons to discuss having another financial assessment carried out to review their contributions.