New BMX bike track in Birmingham hosts European event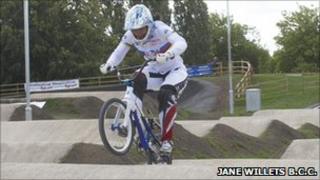 Just over a week after it was officially opened, Birmingham's new state-of-the-art BMX track will host the sport's European Championships.
Two rounds of the European Cycling Union (UEC) event will be held at the facility in Perry Barr on Saturday, 18 and Sunday, 19 June.
The track is a joint project between the city council and British Cycling.
Councillor Martin Mullaney, cabinet member for sport, described it as a "fantastic" new facility.
'World-class standard'
Work started on the new 492ft (150m) long track Perry Park in 2009.
It was officially opened on 9 June 2011 by the Lord Mayor of Birmingham Councillor Anita Ward and three-times UCI (Union Cycliste Internationale) BMX World Champion Shanaze Reade.
She said the track at Perry Barr was the "kind of place that could help us find the next generation of BMX superstars from the UK".
Mr Mullaney said that Birmingham was "proud" to be hosting the UEC BMX European Championships for the first time.
"We look forward to welcoming our European competitors and wish them every success in the competition," he added.
Jonny Clay, event director at British Cycling, said: "After months of hard work from Birmingham City Council and British Cycling, we're excited to see some of the world's best riders descend on Perry Park and compete on a track that is of world-class standard."
In May 2012, Birmingham will host the UCI BMX World Championships at the National Indoor Arena.