Frederick Carder glass sculpture donated to museum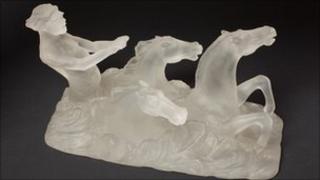 A glass sculpture made by a Black Country-born artist has been donated to a local museum.
Frederick Carder was born in Brierley Hill in 1863 and worked in the area before emigrating to the US where he had a successful career.
The Triton and Horses work was owned by the Rotary Club of Brierley Hill and Kingswinford.
The club has donated the piece to the Broadfield House Glass Museum in Kingswinford where it had been on loan.
Keeper of Glass at the museum, Roger Dodsworth, described Frederick Carder as "one of the most important glassmakers that the Black Country glass industry has ever produced".
"It is extremely generous of the Rotary Club to donate it [the sculpture]," he added.
After moving to the US, Carder had success with the Steuben Glass Company in New York and also became a Rotarian.
He gave the sculpture to the Brierley Hill Rotary Club in 1958 after it held a special event to honour his work and local links.
Now due to close because of falling numbers, members decided to donate the sculpture to the museum.
Past president of the club Richard Moore carried out extensive research into the statue and Frederick Carder.
"His connection with the glass industry and the fact that the museum has got not only the piece but the background to it, is quite a useful contribution to the local collection," Mr Moore said.
Councillor David Stanley, Dudley Council cabinet member for environment and culture, said: "We are extremely grateful to the rotary club for their generous donation to our glass collection, it is a wonderful addition.
"Frederick Carder is very highly regarded in the USA, where he spent the majority of his working life and this donation will help to ensure that his work and achievements are not forgotten."