Three local churches awarded heritage money for repairs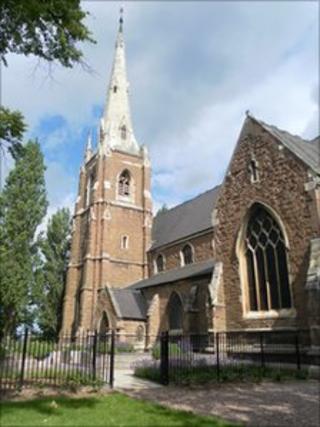 Three churches in Birmingham and the Black Country have been offered Heritage Lottery Fund (HLF) grants to help pay for repair work.
They are The Assemblies of the First Born in Lozells, St Michael in Handsworth and Cradley Heath (Four Ways) Baptist Church.
The churches are Grade II listed.
Anne Jenkins, head of HLF West Midlands, said that historic places of worship were an "irreplaceable" part of the region's heritage.
"Both the Heritage Lottery Fund and English Heritage (which administers the grants) are delighted that in these difficult times, these vital repairs can still be done, ensuring these wonderful places are secured for future generations," she added.
Birmingham
The Assemblies of the First Born Church is receiving a grant of £171,000 for the building that dates from 1880.
Church secretary Angela Williamson said they were "ecstatic" at the award which she said would be spent on the outside of the church and making sure it was watertight.
She said their next phase of work would concentrate on the interior of the church.
The Reverend Dr Rowena Pailing from St Michael said the funding was "brilliant news".
"[It is] partly about preserving this really important historic building and part of our heritage but more importantly about providing a decent environment, a good environment, so that local groups can actually meet here and use the building," Dr Pailing added.
The church, which was built in 1851, has been awarded £98,000 and the money will be spent on repairs to the roof and stonework to make the building waterproof.
Black Country
Built in 1904, Cradley Heath (Four Ways) Baptist Church has been awarded £106,000.
Church leader Albert Billingham welcomed the grant and said it would be used for sorting out dry rot in the roof and also high-level repairs like renovating terracotta work.
"What we want to try and do if we can is bring it up to speed and use it for the community. We want to be a church in the community, for the community," he said.
He added that their fundraising efforts were continuing because, as part of the grant agreement, churches are expected to contribute towards the costs of their projects.