Birmingham female officers win bravery award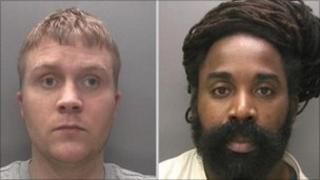 Three Birmingham police officers have won a national award for bravery for chasing armed bank robbers.
Pcs Kate Peplow, Catherine Morgan and Diana Shaw were presented with the bravery award by the British Association for Women in Policing.
The three were on routine patrol and heard over their radios that an armed robbery was in progress.
Pcs Shaw and Peplow were threatened at gun point but despite the risk all three pursued the robbers.
They also helped recover a large sum of money and a gun from the scene.
Grave digger
The armed robbery took place at the UAE Bank in Soho Road, Handsworth, on 12 January 2010.
It began with the theft of a small digger used for grave digging at Handsworth Cemetery.
Three workers at the cemetery were tied up before the digger was driven off and used to ram a window at the bank.
The offenders, some armed with handguns, then threatened three bank staff who were forced to hand over £21,000.
In April Norman Grant, 44, from Handsworth, was jailed for a minimum of 21 years for robbery, kidnap and possession of a firearm.
Luke Daly, 26, of Sutton Coldfield, will serve at least 11 years for robbery.
Pc Peplow used her arm to deflect a sawn-off shotgun that was pointed at her by one of a gang of five men.
Pc Shaw said: "From the information, it was clear that there were criminals at large and people in danger.
"We had to act, we had to protect the public - it's what we joined the police service for. Any officer would have done the same."
Investigations to trace the others involved in the robbery continue.