Your Paintings website launched to showcase collection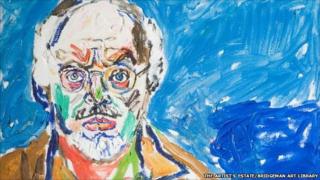 Hanging in a bar at the University of Birmingham are four paintings by artist John Bratby.
It is one of the many, varied locations where you can find public art.
The UK has a national art collection of about 200,000 oil paintings in buildings ranging from museums to hospitals and fire stations.
Now, a new website called Your Paintings aims to catalogue this collection, including works in storage or not on general display.
Public collection
It is thought that 80% of the national collection of oil paintings are not on view.
The BBC is working with The Public Catalogue Foundation and institutions across the UK to showcase the entire national collection online and the stories behind them on the Your Paintings website.
One of those stories is how four paintings by the artist John Bratby (1928-1992) came to be hanging in the staff bar at the University of Birmingham.
University curator, Dr James Hamilton, explained that John Bratby was central to the Kitchen Sink art movement where artists "painted ordinary, everyday interiors".
Honorary degree
He was awarded an honorary degree from the university for his contribution to literature and painting in 1992, shortly before his death.
Dr Hamilton later got in touch with the artist's widow, who loaned the university some of his work for an exhibition.
Four of the paintings, three of sunflowers and the self-portrait (above), were hung in the staff bar which was re-named The Bratby Bar.
They were later bought by the university and continue to grace the walls of the bar where Dr Hamilton said "they are bang in your face, you can't miss them, they are generally well-liked".
__________________________________________________________
Image credit
John Randall Bratby 1928-1992
Self Portrait c.1980 (detail)
© the artist's estate/Bridgeman Art Library
Research and Cultural Collections, University of Birmingham