Birmingham Airport's Maglev carriage resold for £100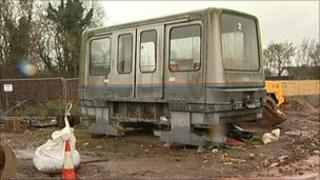 A magnetic carriage that transported people from Birmingham Airport to its railway station sold for just £100 after a £25,100 eBay bid was not paid.
The airport used a Magnetic Levitation (Maglev) line between 1984 and 1995 before replacing it with cable cars.
The Maglev carriage attracted 35 bids and was sold on the internet auction site eBay in November for £25,100.
The bidder defaulted but Andy Jones from Warwickshire snapped it up and is moving it to his home near Kenilworth.
Mr Jones said: "The Magnetic Levitation Line came out of use back in 1995 and was put to one side by the Birmingham Airport people and at the back end of last year they decided to sell it on eBay.
Maglev memories
"The bidding went up to £25,000 but whoever bought it the deal didn't go through so it went back on eBay again at the start of this year for Help the Heroes and a hospice.
"So I thought I would get things going by putting in an opening bid of £100 and nobody else bid for it.
"As a consequence I've got a five tonne train to get shifted into a field opposite my house and I've now got to find a suitable use for it."
He said he used to be a frequent flyer from Birmingham Airport and remembered riding on the Maglev.
He said: "As a British invention of its day I thought it was absolutely tremendous. It was the forefront of its technology and a high speed Maglev has just been opened up in Shanghai which I think is a direct development of what took place in the old days."
He plans to work with local companies to refurbish it and to install lighting and seating and said he wanted to hear from any groups who thought they could put it to good use.