Leighswood Primary School in dance world record bid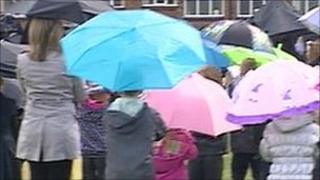 A Black Country school is hoping a dance event with a difference will put them in the world record books.
Leighswood Primary School in Aldridge attempted to break the record for the largest "umbrella dance" on Wednesday.
Just over 570 pupils and staff took part in the choreographed routine, complete with multi-coloured umbrellas.
The current record is held by 492 people in a town in Texas, US. The school hopes to find out in a couple of weeks if it has been successful.
Organised by local performance artist, Tom Murphy, the children had to dance together for five minutes while holding an umbrella. Their choice of song was Umbrella by Rihanna.
Videos of the attempt, along with documents and witness statements, will now be sent to Guinness World Records, which will assess if a record has been broken.