Midlands Air Ambulance appeals for support after raid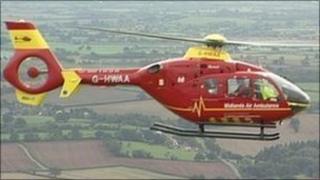 The Midlands Air Ambulance has appealed for public support following a robbery where staff were held hostage by three masked men armed with a stun gun.
Public donations worth £12,000 were stolen in the raid at the charity's headquarters on the Enterprise Trading Estate in Brierley Hill on Tuesday.
Charity Director, Hanna Sebright, said: "We know the public feel as strongly as we do about this disgraceful theft.
"We receive no funding, so every penny is precious."
Ms Sebright said the air ambulance needed continuing support and donations of whatever size were welcome.
'True dedication'
"Those responsible will not deter the hard work that our employees, fundraisers and volunteers do," she said.
"Everybody who was subjected to the raid came back to work the following day and this shows true dedication by all involved."
The charity, which is solely funded by public donations, needs £6m a year to operate.
An ambulance spokesman said 20 members of staff were held hostage although the stun gun was not used on them.
No-one was injured, and the raiders escaped in a member of staff's car having stolen bags of money.
The car was recovered later that day.
Police said the men were all described as black, in their 20s and were wearing scarves across their faces.