Strikes at Faifax School over academy and pension plans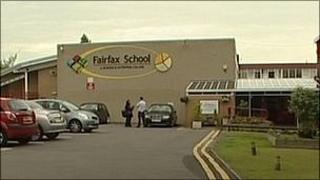 Teachers at a West Midlands school are to begin the first of three days of strike action.
Some staff at Fairfax School, in Sutton Coldfield, are walking out on Tuesday and Wednesday in protest at plans to turn the school into an academy.
On 30 June they will join thousands of teachers in a national day of industrial action over pensions.
The school is open to pupils for the first two days of the strike but with activities replacing some lessons.
Around 30 teachers will go on strike over the school's plans to convert to academy status on 1 July.
For the first two days the school will close at 1430 BST instead of 1500 BST.
The school will then close on 30 June for the national strikes.
'Business as usual'
Sarah Calvert, the school's headteacher, said: "I'd be quite happy to reassure parents that disruption is as minimal as possible.
"For the next two days it's business as usual."
David Room, deputy general secretary of the Birmingham branch of the National Union of Teachers (NUT) whose members are taking part in both strikes, said the strike over academy status was a "last resort".
He said the governing body had "ignored requests to put the proposed conversion on hold to allow for meaningful consultation".
"NUT members are angry that there has been many more responses against conversion to academy status at this time from stakeholders compared to those in favour, yet this has been ignored."
A parents' group called Say No to Fairfax Academy has issued a leaflet opposing the plans.
It states: "We are concerned that the governing body is rushing through the conversion process, despite, we hear, of being aware of the strong objections raised by many teachers, support staff and also parents and students."
Parents are concerned that if the school became accountable for having to buy in its own services it could become overstretched.
They are also worried the school would have to pay for any employment tribunal cases or repairs to the site.