Birmingham University weather stations monitor city's climate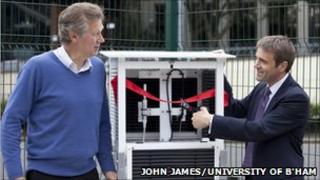 Two new weather stations have been set up in Birmingham to allow scientists to gather more information about cities' climates.
Experts at the University of Birmingham said the stations would help give information to city planners to prepare for heatwaves.
The stations, based in Edgbaston and the city centre, were opened by BBC weather presenter John Hammond.
The former student at the university called it an "important" project.
'Storage heater'
Meteorologist Professor John Thornes said: "We hope that by installing new weather stations in these two locations we will be able to get accurate data about climate change at a neighbourhood level in cities."
"As we gather new data, this will be used by planners and health authorities to improve planning decisions and the health and well-being of Birmingham residents."
Mr Hammond said the climate in urban areas was "very different" to that in the surrounding suburbs and countryside, and that temperatures in city centres could often be 10C higher.
He described Birmingham as being "a bit like a huge great storage heater".
"During the daytime, the sun beats down and very slowly these big masses of concrete and tarmac warm up and they store the heat so that during the evening time the urban area continues to gradually release that heat into the air," he said.
The university has teamed up with Birmingham city council's Environmental Partnership, the West Midlands Climate Change Adaptation Partnership and the Met Office to develop the city centre station.