Edward Thompson talks about home stabbing ordeal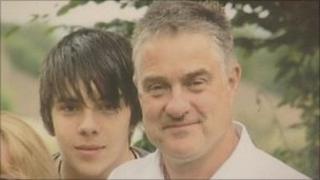 A teenager who was stabbed along with his ex-policeman father as they gave refuge to a youth in their home has spoken about his ordeal.
Martin Thompson and his son Edward were attacked when they let the teenager, who was apparently being chased by youths, into their Birmingham home.
Edward suffered a punctured lung and spent four days in intensive care. His father was stabbed in his side.
The 18-year-old said he was shocked after being told he was close to death.
'Hang on in there'
Two people have since been charged with attempted murder after the incident outside their home in Alvechurch Road, West Heath, on 21 May.
"I knew it was pretty serious because my dad couldn't stop talking to me, saying like hang on in there Edward," he said.
"When he told me what happened, a punctured lung, he said I was close to death.
"It was such a shock."
But he said he would probably do the same again.
"If anyone knocks on your door and their life is threatened, you're going to have that kind of initiative to go out there and help him," he added.