Midlands Air Ambulance overwhelmed by help after raid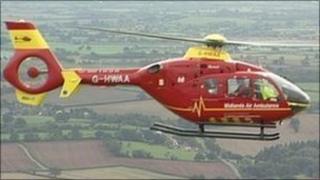 The Midlands Air Ambulance has received an "overwhelming" level of support after staff were held hostage in an armed raid.
Public donations worth £12,000 were taken from the charity's headquarters on the Enterprise Trading Estate in Brierley Hill on 21 June.
A charity bike event held days after the raid attracted twice the number of bikers and raised £12,000 - £2,000 over the expected target.
Each flight costs the charity £2,000.
A charity spokesman said: "The public have already donated over £1,000 in the week since the raid and staff have been overwhelmed by messages of support.
"Staff would like to thank the public for their kind words and ask them to show their support at any of the charity events lined up this year."
The raid involved three masked men armed with a stun gun.
No-one was injured, and the raiders escaped in a member of staff's car with bags of money.
The biking event, called Bike 4 Life, was held on 26 June.
The event, which is in its second year, attracted more than 700 enthusiasts who biked together across the Midlands to raise funds for the charity, which receives no government or national lottery funding.
'Life saving missions'
Fundraising manager Stef Langford-Brown said: "Bikers have always been huge supporters of the charity.
"Over 50% of the airlifts the Midlands Air Ambulance attends are road traffic accidents and the biking community understand the work done by the charity is invaluable.
"Many of the bikers who took part would not be alive today if it wasn't for the life saving missions the service carries out. "
West Midlands Police are still appealing for anyone with information about the raid to get in touch.