Birmingham wholesale market to stay open on strike day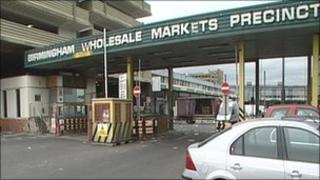 A Birmingham market will open on Thursday after the council had said it would shut for the day due to industrial action.
Cleaners, security staff and market officers at the wholesale market are due to strike over new pay and conditions for council workers.
Birmingham Wholesale Fresh Produce Association said the authority was not contesting a High Court injunction.
The council said it "has now secured contingency arrangements".
'Asking for exemption'
The authority added that this was secured in conjunction with traders on Wednesday morning.
A spokesman said: "The city council has approached Unison asking for an exemption from the industrial action for the Bull Ring and wholesale markets.
"However, should this not be granted, in conjunction with traders and our legal advisers, the council has now secured contingency arrangements which will allow the markets to remain open."
Wholesale association spokesman Peter Marshall said all tenants in the market on Pershore Street were "completely overjoyed".
He said: "They're [the council] not contesting the High Court injunction the Birmingham Wholesale Fresh Produce Association took out yesterday afternoon against Birmingham City Council preventing it from closing the site.
"Common sense has prevailed. It's a shame it came to this, but we were left with no other course of action."
'Fair and necessary'
Unions have said council workers are being asked to sign agreements which break nationally agreed terms and conditions.
They say the changes would abolish payments for weekend and out-of-hours working and weaken workers' rights in grievance procedures.
Some staff would suffer pay cuts of up to £6,000, unions have claimed.
But the authority, run by a Conservative-Liberal Democrat coalition, said the contracts were fair and necessary.
A council spokesman said while it welcomed the injunction, the authority stressed contingency plans had already been secured to allow it to open and the original intention to close the markets "was a direct result of union action not the city council".