Birmingham arts and science museum merger planned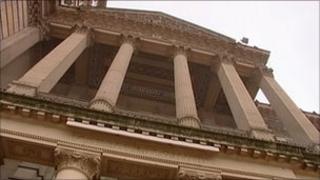 Birmingham Museum And Art Gallery is to merge with the city's science museum Thinktank in a bid to boost popularity.
In total, the two organisations attract 1.1m visitors per year.
Combined visitor numbers would rank it among the 40 most popular museums in the world with New York's Guggenheim and Oxford's Ashmolean Museum, museum bosses said.
Birmingham City Council said the merger, which will be formally approved on Monday, would save taxpayers money.
The Conservative-Liberal Democrat run authority said the new museum would be run as a single charitable trust, with the council retaining final say over admission prices and ownership of the museum buildings in Chamberlain Square and Millennium Point.
Admission to Birmingham Museum and Art Gallery (BMAG) is currently free but adults are charged £12.25 to visit Thinktank.
Martin Mullaney, cabinet member for leisure and culture, said: "There are no plans to charge for admission to [BMAG].
"There may even be an opportunity to introduce free admission days for Thinktank, if the finances work. That would be fantastic."
Thinktank would possibly be renamed Birmingham Science Museum, he added.