Car pursued by police hits house in Hampton-in-Arden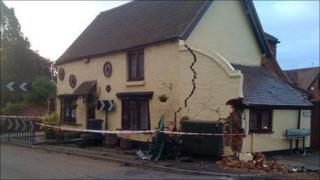 A car being pursued by police following a burglary has crashed into a house in the West Midlands.
Three men were arrested on suspicion of burglary after a vehicle hit a house in Solihull Road, Hampton-in-Arden, at 0430 BST.
Two of the men, aged 23 and 24, were taken to hospital after suffering non-life threatening injuries.
A 25-year-old man is in custody being questioned about a burglary in Barston Lane, Balsall Common, West Midlands.
Police said property was taken during the burglary and the offenders attempted to steal a Mercedes.
Officers were alerted to the break-in at 0411 BST.
About 10 minutes later traffic officers spotted a VW Golf and followed the car after it failed to stop.
Police said officers then found the Golf had hit a house at the junction of High Street and Solihull Road.
Anyone with any information about either incident is asked to contact police.
Fire and ambulance crews were called to the scene.
Police helicopter
A spokesman for the fire service said it freed three male casualties from the car.
One man had back and arm injuries and another had back injuries.
It is believed no one inside the house was injured in the crash.
The fire service said gas and structural engineers had been called to make the house safe.
Residents said the car went through some railings and into the side of the house.
They said firefighters had to pull part of the house down to make it safe.
They said the police helicopter and police dogs were at the scene and there were several police cars at the end of the road.