West Midlands soldiers serving at Camp Bastion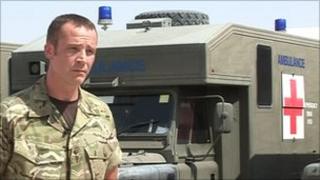 It is the biggest British military base to be built overseas in modern times and people from across the Midlands are doing jobs there you might not expect.
Camp Bastion is set in the middle of the desert in Afghanistan and has a population of 20,000.
If it's airfield was in the UK it would be the third busiest in the country. It handles 600 flights a day and is referred to as Little Heathrow.
Its field hospital is state-of-the-art and employs 170 doctors and nurses.
Extreme trauma
Cpl Craig McDoogal, from Bournville, Birmingham, usually works as a radiographer at the Queen Elizabeth hospital in Birmingham but is out in Afghanistan for two months.
The 31-year-old said: "The level of trauma is a lot more extreme out here.
"Just by the nature of the work that we do we have certain incidents that we wouldn't see back in the UK.
"But the training we get back in Birmingham working with the civilians actually prepares us very well for coming out here."
The base is also home to about 73 dogs of the Military Working Dogs Support Unit. They are used in a variety of roles in Helmand, including searching vehicles coming into the base.
Cpl Sam Plant, 23, from Sutton Coldfield, is a dog handler in charge of searching these vehicles.
He said: "We're searching for explosives, weapons and ammunition. Sometimes odd bits of ammunition are found but the dogs act as a major deterrent."
He said it seemed he was destined for the job.
"My Grandad was in the air force and my dad is a policeman and ex-dog handler so I've kind of followed in the family tradition," he said.
Service personnel work seven day weeks here and long hours but away from work they can unwind at the gym and refuel at the three canteens.
Long lost friendships
If they get bored of the food there's always the Naafi where there's the option of fast food from Pizza Hut and KFC.
But it is a "dry" camp - so no alcohol is available.
Camp Bastion has also helped to renew long lost friendships, as two neighbours from Rubery, in Worcestershire, found out.
Cpt Gemma Leek, 28, and 26-year-old Cpt Sally Mullen had not seen each other for 13 years but learnt they were both serving in Afghanistan via Facebook.
Cpt Leek said: "We actually realised we were both out here together and said we must meet up."
Cpt Mullen said: "Gemma found me in the cook house and just grabbed my arm and said hi Sal. So it's quite a small world really."