Rugby World Cup star Jason Robinson helps UK troops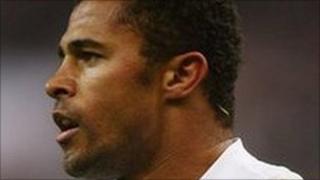 England Rugby World Cup winner Jason Robinson has joined a military team to help raise money for British troops wounded in Afghanistan.
The rugby star and 19 other volunteers have begun a two-day, 3,580-mile endurance event held at the Queen Elizabeth Hospital in Birmingham.
Using exercise bicycles and tread mills they aim to cover the distance from the hospital to Camp Bastion.
The team hopes to raise a minimum of £1 for each mile covered.
'Added incentive'
Group Capt Wendy Williams, Commanding Officer for the Royal Centre for Defence Medicine, which is based at the Birmingham hospital, said the patients at the hospital greatly appreciated the team's efforts.
"They are obviously going through a really traumatic event and it gives them that added incentive to know that they not only have the support of the nation, but the local people here as well," she said.
The former England rugby winger said: "It's important that we give our troops the support that they need and I am here to show my backing for them."
Sponsorship money will be shared by four charities: the Queen Elizabeth Hospital Birmingham charity's military patients' fund, the Soldiers, Sailors, Airmen and Families Association, Troop Aid and the Mickey Vaggs Trust at the Army Benevolent Fund.