Wolverhampton's £22.5m bus station opens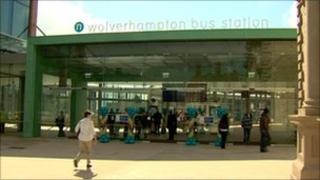 A £22.5m bus station has opened in Wolverhampton, which the council hopes will be the first phase of further regeneration for the city.
It replaces the former station in Pipers Row which closed in April 2010.
Made of concrete, glass and steel it includes 19 bus stands, fibre-optic passenger information boards, retail space and covered pedestrian walkways.
Regional transport authority Centro said it marked a new era of bus travel to meet modern passengers' needs.
'Confident beginning'
Peter Bilson, Wolverhampton City Council's cabinet member for economic regeneration and prosperity, added: "For some time we have been improving the gateway to Wolverhampton with state of the art facilities.
"We are confident this marks the beginning of the rest of the regeneration."
He said phase two of the city's Interchange project would hopefully include a new railway station, plus extra parking as well as more leisure and entertainment facilities that would rely on private sector funding.
Mr Bilson said the council would take advantage of the West Coast Mainline franchise contract renewal to lobby bidders for the proposed new railway station for Wolverhampton.