London 2012: Birmingham connections caught on camera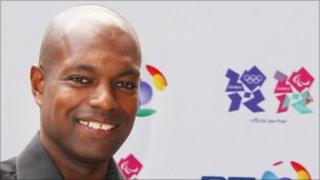 A Birmingham wedding photographer has been chosen to help capture the build-up to the London 2012 Games.
With a year to go before the Olympics start, Clive Blair will be creating a snapshot of the part Birmingham plays in the run-up to the Games.
He said there were a lot of things going on in and around the city and it was a "privilege" to be able to record them.
Mr Blair has been named as one of 100 BT Storytellers from around the UK.
'Great opportunity'
Explaining why he applied for the project, he said: "Because I tell stories as a wedding photographer, I thought well there's a great opportunity to actually tell the story of a once-in-a-lifetime event.
"I'm looking to see how I can just tell a lot of the behind the scenes stories... and just document it so that in future times people can look back and remember this momentous occasion," Mr Blair added.
The photographer, who said he would be fitting the project in with his wedding work, also hoped to highlight the training that would be taking place in Birmingham ahead of the Olympics.
The 160-strong US track and field team will train in and around the city as will 60 athletes from the Jamaican squad.
The Olympic torch relay will also stop in Birmingham as it makes its way around the UK in the run-up to the 2012 Games.
Its arrival on 30 June 2012 will be marked by an evening of celebrations.
Mr Blair, who is from Short Heath, said: "The fact that it's right on my doorstep, I think it's a privilege to be able to record all of that."
The photographer said other 'storytellers' taking part included film-makers, poets and writers and their work was being catalogued on an interactive website.