Birmingham anti-social behaviour teams claim success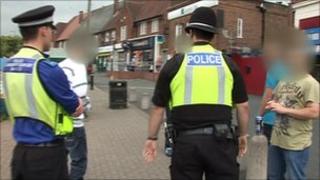 A pilot project aimed at tackling anti-social behaviour in south Birmingham is being hailed as a success.
West Midlands Police said incidents had fallen by more than 30% in the past year as specialist anti-social behaviour (ASB) patrols were introduced at the beginning of the year.
The teams consist of patrols in three cars which are immediately sent out to respond to calls of anti-social behaviour.
The initial visit is followed up with phone calls and up to two more visits to make sure the problem has been dealt with and the people who reported the incident are happy.
Sgt Dan Lowe, leader of the ASB teams, said: "We won't leave the victims until they are happy.
"We'll update them that evening and if it's kids causing the problem, we'll update the victim once we've located the kids and talked to their parents.
"Twenty-four hours later we'll revisit the victim and we'll just check how they felt we'd done and has the problem stopped and if it hasn't we're here today to follow it up."
The scheme is being monitored by Cambridge University and forces as far away as Australia and Canada have taken an interest in the results.
When I went out on patrol with one of the teams what struck me was the number of incidents involving young teenagers and drink.
Many were clearly drunk by early on a Friday night. In some cases the police confiscated the alcohol and poured it on the ground.
Despite the difficulties in dealing with something as broad as anti social behaviour the police believe they can be effective.
Neighbours' dispute
Ch Supt Phil Kay is in charge of South Birmingham where the scheme is being piloted.
He said: "Working with our partners and local people we can come up with solutions that can address those problems, and in many cases can remove them, and can remove the blight that affects people's lives."
However, the scheme does not always please everybody.
While on patrol we're called to the home of Amanda Wood who has called the police because of a dispute with her neighbour, Lorraine Priddey.
The police have been to the addresses more than 20 times. The dispute began after their children fell out, and now Ms Wood is close to tears and feels the police have let her down.
This week she moved out of her South Birmingham estate.
She said: "Ten years of stuff to pack... packing which I shouldn't have to do and I wouldn't be doing.
"I've had no help and no back-up from the anti-social team. And we've got to move out for our quality of life."
Ms Priddey was happy with the police handling of the case, which involved both women going to their local police station for a three-hour mediation session.
But sometimes there are no quick fixes, no easy answers.