Birmingham's Gun Quarter area to get new name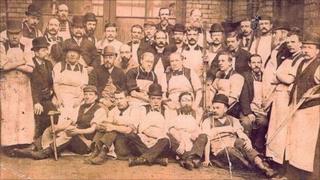 Birmingham's historic Gun Quarter is to be renamed after residents petitioned the council to give their district a new title.
Birmingham City Council confirmed the area, which is next to the Jewellery Quarter, is to become known as St George and St Chad.
A spokesman for the council said some people wanted the name change to distance the area from gun crime.
The new name comes from a church in the area and the city's Catholic cathedral.
Tim Huxtable, Birmingham City Council's head of regeneration, said the decision had been taken after they received feedback from the public including a petition signed by 50 people.
He said: "We listened to the local community, which is the whole point of consultation.
"The views of local people seem quite clear."
A council spokesman said the Gun Quarter will still exist as a smaller area within the new district.
He said the new name reflected the fact that the area was larger than the part of the city where guns were made.
He added people gave many reasons for wanting a change of name including concern about crime.
There is no set date for the change of name with new road and street signs due to be rolled out gradually.
Warren of workshops
Birmingham's gun manufacturing community grew around St Mary's Church in the late 1700s and early 1800s.
Initially a select residential area for Georgian entrepreneurs, the community slowly turned into a warren of workshops that had begun as the back gardens of the houses.
It came to be known as the "Gun Quarter" - an area where skilled craftsmen made guns by hand.
The trade made millions of weapons that saw service in the Napoleonic Wars and in the American Civil War.
Today only a few firms remain in England including Westley Richards and Co.
Simon Clode, managing director of the firm, said it appeared the decision had been made hastily.
He said the firm, which will next year celebrate its bicentenary, is the only factory close to the Gun Quarter.
"It's a shame they're not acknowledging the history of Birmingham's gun making," he said.
"It was a big employer and played its part in several wars."
He added: "No one from the council has approached us as gun makers. We employ six apprentices, we've got two more joining us next month, we're still going strong and export all over the world.
"Pistol shooting in the area is another matter all together. The Gun Quarter is something we should be proud of."