Birmingham City move to calm fans' fears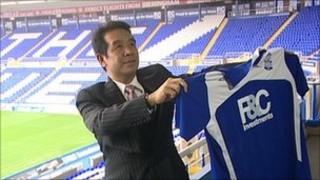 Birmingham City fans have no reason to be concerned about the club's future, the club has said.
Blues issued a statement saying they wanted to reassure their loyal supporters after some of them contacted the club expressing concerns.
Acting chairman Peter Pannu said it was still very much business as usual, despite some reports suggesting otherwise.
Club chairman Carson Yeung is currently on bail over money laundering charges.
Mr Pannu said he wanted to make it clear that while the benefactor's legal wrangles did pose some problems, the club had sufficient contingency plans to cater for the "temporary difficulties".
'Not realistic'
"Our bankers have been very supportive and we currently still stand in a positive credit balance with them.
"When we talk about offloading players, we will consider players on Premier League wages as this is not a sustainable scenario for an Npower Championship Club."
He added the club wished to retain its star players, but also that it was not realistic to do so.
"I wish to assure supporters that what we are addressing is no more and no less than what a prudently managed club would do," he said.
Birmingham City were relegated from the Barclays Premier League at the end of last season.
Carson Yeung is due to be tried on 11 August.