Birmingham Somali community's famine fears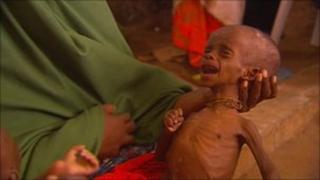 To get to the money transfer, Muhamud Yassin, 22, walks down Coventry Road in Small Heath, Birmingham.
He passes supermarkets, bakeries, and a greengrocer with cardboard boxes lined up outside filled with bright piles of oranges, sweet potatoes, and water melons.
It is simple to find something to eat here in Birmingham, but Mr Yassin's friends and relatives in Somalia are fighting to find enough food to stay alive.
Hundreds of Somalis, fleeing extreme drought in their home country, are arriving every day at overcrowded refugee camps in Kenya.
The UN has warned the crisis is getting worse, with more than 12 million people in Somalia, Kenya, Ethiopia and Djibouti needing urgent help.
Mr Yassin, like other members of Birmingham's Somali community, is doing all he can to raise money for people in the famine-stricken African country.
He puts the notes down on the counter of the money transfer. This time it is for $100 - he is sending every spare pound he has to Mogadishu.
"Particularly with my family, they come from a rural area. It's very difficult for them because crops and livestock are passing away, they have to travel miles just to get clean water. It's getting harder and harder by the day," he says.
With him, is a friend, 21-year-old Awab Nawari. He is Sudanese and is also sending money.
"When the world unites to help, this is a good thing."
A seven-year-old boy called Bila stands outside the main street running through Small Heath.
He holds on tightly to a bucket and, when prompted, rattles it.
This is his first time fundraising.
"The Somali people they don't have food, they don't have TV, no food, they don't have toothbrush, they have nothing," he says.
Around the corner is the office of Africa Aid; one cramped room with three desks and two telephones.
Muktar Behi is talking to one of his people on the ground in Mogadishu who tells him that the fighting has started again.
"You see people need your help, and you just can't operate as much as you want, including the finance for the food and the aid you want to give people," he says.
A former minister in the Somali government, Dr Maryan Qasim, lives nearby.
She said the international community had been extremely late in reacting.
"The aid that is coming in from the Arab countries is not enough. More and more families are coming in," she says.
"The Somali government cannot support them all. I don't know what the international community is waiting for, three million Somalis to die?"
Further down the street, the Nuur family settle down to tea and biscuits around their kitchen table.
Abdullahi Nuur has five children. They are happy and healthy and curious. But their father becomes sombre when talking about the famine.
He said it was "worse than a horror movie" and he feared the whole Somali race could become extinct.
"I feel so guilty. It's the worst thing. I can't imagine the situation when I would leave my children behind. There's nothing worse that can happen to a human being than that."