Bells Farm in Druids Heath will be restored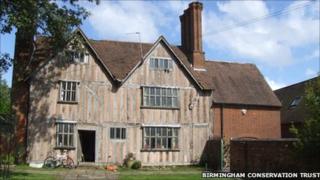 A 17th Century Birmingham farm will be restored for future generations after a project was given the go-ahead.
Bells Farm, in Druids Heath, was in use until 1976 but was then left empty and fell prey to vandalism.
In 1978 more than 1,000 residents signed a petition to save the farm from demolition and the Bells Farm Community Association was formed.
The building was partially restored in the early 1980s and has been used by community groups since 2008.
But in recent years the building has suffered fire damage and must now be made watertight and structurally sound.
Work will begin in October to repair the roof and other external elements of the main building.
The rear wing will also be rebuilt with the project scheduled for completion in March 2012.
The project will cost £639,000 with the funding coming from a range of sources including £308,979 from English Heritage.
'Fantastic news'
A spokesman for Birmingham City Council said the repairs will allow the Grade II* listed building to be taken off the "at risk" register.
Once the work is completed, current occupiers the Spearhead Trust at Bells Farm will seek additional funding to consider a Community Asset Transfer of the premises.
Martin Mullaney, cabinet member for leisure, sport and culture, said: "This is fantastic news for a unique piece of Birmingham heritage and I'm delighted we have been able to reach an agreement.
"Working with English Heritage, the Birmingham Conservation Trust and the Spearhead Trust, we now have a clear plan for this historic site.
"This is a building with a rich history and it now has a bright future as a vital facility for the Druids Heath community."