'Blind Dave' Heeley set for Macmillan marathon challenge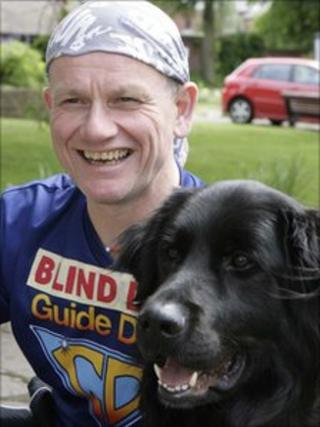 A blind man who raised thousands of pounds for charity by running seven marathons in seven days on seven continents is planning a new challenge.
Dave Heeley, from West Bromwich, aims to run 10 marathons in 10 days travelling from John O'Groats to Land's End and cycling between each stage.
The race covers about 1,000 miles (1609km) and is in aid of Macmillan Cancer Support to marks its centenary.
Mr Heeley, known as Blind Dave, said he had been doing intensive training.
He set off this weekend for the competition which starts on Wednesday, to coincide with the birthday of the charity's founder, Douglas Macmillan.
He will start each day with a marathon run of 26.2 miles (42.16km), before cycling by tandem to the next destination.
Mr Heeley will travel about 750 miles by tandem within 10 days.
The fundraiser said: "We're going to be on foot and in saddle up to 14, maybe 16, hours a day so it's going to be a tall ask but it's a fantastic charity so we're going to give it our best shot."