Birmingham crackdown on aggressive street begging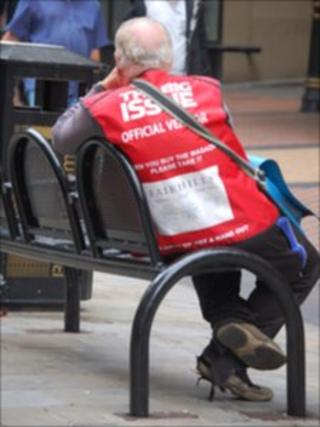 Thirteen people have been arrested and charged in Birmingham city centre in an operation to tackle aggressive begging.
The operation began on 1 August and has resulted in three people being given official status to sell the Big Issue.
Legitimate Big Issue magazine sellers said aggressive beggars had a negative impact on their sales and welcomed the crackdown, West Midlands Police said.
Eleven people found sleeping rough were referred to housing associations and substance abuse organisations too.
The force has also raised £120 for the city's 12 legitimate Big Issue sellers from the sale of unclaimed lost property.
'Hand up'
It has used the money to buy extra copies of the Big Issue to give to each seller, increasing their potential to make a small profit.
The charity offers unemployed or homeless people a 50% discount on the £2 cover price and allows them to keep the difference for each copy they sell.
Insp Andy Bridgewater said: "Increased enforcement has resulted in 13 aggressive beggars being taken off the streets of the city, while legitimate sellers of the Big Issue have been able to get support and assistance."
"As stated on the sleeve of each issue, police funding should give legitimate sellers 'A hand up, not a hand out'," he added.