Handsworth riot: 'They've had a field day'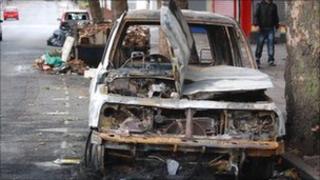 Residents in Handsworth, Birmingham, have woken up to burnt-out cars and buildings, smashed windows and litter strewn about after a night of rioting in the second city.
Shopkeepers reported seeing a group of about 30 to 40 boys roaming along Soho Road on Monday night randomly attacking store after store, successfully breaking into some and vandalising others.
Several banks and shops and the local police station bear the hallmarks of a night of violence and looting.
As the clean-up begins, residents said they could not believe what they had seen.
They are shocked that the rioting that started in London four days ago has now spread across England.
'Having a go'
Paul Ahmedt, who works at a 24-hour shop and off-licence on Soho Road, was warned that groups were coming down the street at about 1900 BST on Monday.
Mr Ahmedt and colleagues took their fruit and vegetables inside as soon as possible and put the shutters down.
He said he then watched what happened on CCTV cameras above the shop.
"There were about 30 or 40 lads, some with their hoods up and faces covered," he said.
"They were coming right down the middle of the road and going from shop to shop having a go at each one.
"There were about 15 police vans and the police were there, but they didn't try and stop them.
"The police were going up and down the road, but I couldn't believe they didn't stop what they were doing.
"They (the youths) got into some of the shops but not ours and they pushed a car over and started setting it on fire.
"Whatever they found (in shops) they took.
"We hope it's not going to happen again - it might do, but not here."
In Grove Lane just off Soho Road, a Lloyds bank branch was set upon overnight.
People smashed their way in through the front door before attacking the cash machines.
Unable to get any money they vandalised the inside, starting fires at about 0500 BST.
A member of the emergency services said: "They had a field day inside."
Fire crews were pulled out for their own safety at one point due to the trouble and moved to the Aston district before returning to the scene and remaining there at about 0830 BST.
A Handsworth resident who only wanted to give his first name, Bruce, said he felt unsafe and could see looters near his house and called police.
"My 15-year-old daughter was crying and saying to me, 'What shall we do?'. I said, 'Be calm'.
"We were thinking about getting everybody together and we'd go. It was terrible.
"I could see them robbing a power tool place nearby and I called the police three times.
"They said 'OK' and that they would be able to respond but it took them about an hour to get there."
As questions are now asked about why such events happened, residents assessed the mood within the community.
Reverend Bryan Scott, from the Cannon Street Memorial Baptist Church on Soho Road, said he worked with young people in the area and understood their frustrations.
But, he said taking action like that "does more harm than good."
"We got a phone call yesterday telling us what was happening in Birmingham and we were having a meeting last night at the church and sent people home," he said.
"We work closely with the young people around here and we understand that they are frustrated - but they are hurting themselves indirectly.
"They and we are feeling (government) cuts but the money spent on restoring the damage here could be spent elsewhere.
"It brings back memories of Handsworth in 1985. It's tragic, such bad memories.
"There's high emotion, people are hurt and upset but who does it help?
"It does more harm than good.
"I can see both sides. We've had our own share of incidents with the police...
"It's one of many strands, but the cutbacks are affecting people at grassroots and putting people under pressure."
Like many people in Handsworth on Tuesday, he is hopeful that the violence does not continue.
"I hope there isn't a second night of it," he added.
"We need parents to speak to their children to get them off the streets."