West Midlands riots: Cameron visits as shops close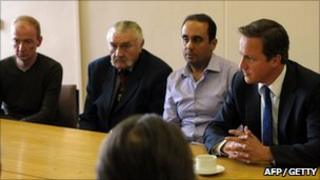 Many shops closed early on Wednesday following looting in Birmingham city centre, Wolverhampton and West Bromwich on Tuesday night.
One Birmingham shopkeeper said: "We are shaking in our boots, we've seen everyone running for the hills out of town, waiting for the trouble to hit."
The prime minister visited Wolverhampton earlier and claimed water cannons could be used to restore order.
Tension in the city seemed to be lower than on Tuesday, a centre manager said.
Colin Quinton, manager of the Wulfrun shopping centre in Wolverhampton, said a number of businesses had closed at 16:00 BST on advice from their head offices.
He said: "It seems quieter than it was last night.
"There's a number of small groups of youths I notice who I think I recognise from last night but the tension is not as high as it was.
"A lot of people seemed to have stayed away but I guess they could come in later, we will have to see."
'Is it safe?'
However in Birmingham a shopkeeper, who has a store near New Street train station, but did not want to be named, said tension was just as high and shoppers and workers had made a mass exodus from the city from about 16:00 BST.
The store owner said: "Customers keep calling and asking is it safe to come? I have to say yes, but I don't really know. Nobody knows.
"Before it was just property being attacked but yesterday we had three people die, which has raised the tension again.
"Where we are, as you are walking home, we actually saw the youths gathering in the side streets, the same youths that are going to smash up your shops, you've got to walk past them. It's terrifying."
David Cameron tried to reassure shopkeepers and emergency service staff in Wolverhampton following the riots.
'Bring to justice'
Birmingham's Bullring shopping centre has employed guard dogs and closed at 16:00 BST as a precautionary measure following two nights of rioting in the city.
Birmingham Chamber of Commerce Group (BCCG) said the city's leisure and retail industry was losing about £2.5m per day because of the disturbances.
About 350 arrests have been made across the West Midlands in connection with the riots since Monday.
A 32-year-old man was arrested on suspicion of murder on Wednesday after three men were run over and killed while protecting property in a second night of violence in Birmingham.
Haroon Jahan, 21, Shahzad Ali, 30, and Abdul Musavir, 31, were taken to City Hospital in Birmingham but died of their injuries following the incident in Dudley Road, Winson Green at about 01:00 BST.
Mr Cameron said: "I know that the police here in Birmingham, here in the West Midlands, are working night and day to get to the bottom of what happened and bring the perpetrators to justice.
"We rely on the police to keep our communities, to keep our country, to keep our shops and homes safe. They need our support in doing that job."
'Not a game'
Birmingham City Councillors also condemned the riots and looting.
A statement signed by the leaders of the Labour, Liberal and Conservative groups on the council said: "Residents of Birmingham have been deeply affected by these events and visitors to the city have not had the welcome that the city would normally offer.
"Now, there has followed the tragic events on Dudley Road last night. All councillors express their deepest sympathy to the families of the victims."
The councillors appealed to the public for restraint to allow the police to do their jobs.
West Midlands Police Chief Constable Chris Sims said: "We will continue to make arrests and create, I hope, an obvious deterrent that if people steal from shops and cause damage they will be brought to justice.
"This is not a game," he added.
More than 1,000 police officers were called in to work in the West Midlands on Wednesday night.