Birmingham riot deaths: Three more arrested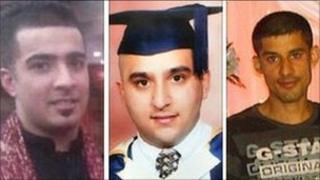 Three more people have been arrested in connection with the deaths of three men who died while protecting their shop from looters in Birmingham.
Haroon Jahan, 21, Shazad Ali, 30, and Abdul Musavir, 31, were killed when a car hit them in Dudley Road, Winson Green, early on Wednesday.
West Midlands Police said two boys, aged 16 and 17, and a man, 26, had been arrested on suspicion of murder.
A 32-year-old man arrested on suspicion of murder on Wednesday has been bailed.
Mourners have started a street collection for a memorial to the three victims in Dudley Road.
Abdul Quddoos, the elder brother of Shazad Ali and Abdul Musavir, said he was "distraught" at the loss of his brothers.
He said: "This happened to me in one go, two brothers, in the same place, in the same spot, gone to heaven."
Both men were intelligent and sociable, he said. Mr Ali had a degree in business administration.
The three of them walking together were a familiar sight around town and they enjoyed playing snooker and hanging out together, he said.
"I am the one son left now, the oldest, the backbone for this family, so I have to be strong in myself, not broken in pieces.
"The pieces are broken and I am trying to glue them back together making it whole again," he added.
'Keep the faith'
Mr Quddoos said his brothers had been claimed by Allah during the holy month of Ramadan, which had caused many people to see them as martyrs.
"It makes me feel proud that they are lions of Allah," he said.
He added his voice to those appealing for calm after the deaths and the riots and urged everyone not to "do anything drastic".
"Stay calm everybody, don't cause any violence, stay strong and keep in the faith," he said.
Yesterday Tariq Jahan appealed for families to help stop the rioting, hours after the death of his son Haroon.
West Midlands Police Chief Constable Chris Sims said: "He made the difference between last night becoming an issue of violence between sections of the community and a night of relative calm."