Birmingham disorder: Inquests opened into men's deaths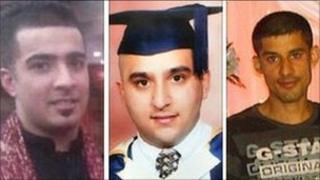 Inquests into the deaths of three men who died while protecting property from looters in Birmingham have been opened and adjourned.
Haroon Jahan, 21, Shazad Ali, 30, and Abdul Musavir, 31, were hit by a car in Winson Green on Wednesday.
The inquest heard police had now recovered a second vehicle.
Two boys aged 16 and 17 and a man of 26 were arrested on Thursday on suspicion of murder, while a man aged 32 who was arrested on Wednesday has been bailed.
CCTV reviewed
At the inquest, Det Supt Richard Baker, the police officer in charge of the inquiry, said police were likely to apply for extra time to hold the three.
The inquest heard Mr Jahan, a mechanic, and Mr Ali, a self-employed car valeter, both died of severe spinal injuries, while Mr Musavir died of a head injury.
In an unusual move, coroner Aidan Cotter said he would release the bodies to the families on Wednesday.
Normally, bodies will not be released to families until a suspect has been charged, so defence lawyers can carry out independent post-mortem examinations.
But Mr Cotter told the inquest he was satisfied with pathologist reports that the three men died of injuries consistent with being in collision with a car.
Det Supt Baker said 70 police officers were working on the case and 60 witness statements had been taken.
Officers have also been reviewing CCTV images of the area.
He said one car had been found burnt out in a nearby side street and that a second vehicle had now been recovered.
Peaceful protest
Adjourning the inquest, Mr Cotter said: "I understand that there is clear evidence, both from eyewitnesses and CCTV, as to the circumstances in which these three men sustained these fatal injuries.
"Their injuries were so severe that there can't be any argument about whether death resulted from injuries they received from the car.
"Hopefully, the people responsible for the deaths of the three men will be apprehended, will be charged and will be prosecuted."
A peaceful protest is to be held on Sunday in memory of the three men.
The event is planned for 15:00 BST at Summerfield Park in Dudley Road in Winson Green, police said.
Police said there were concerns that other marches were arranged in Birmingham on Friday, none of which had cross-community support.
West Midlands Police Chief Constable Chris Sims has praised Tariq Jahan, the father of Haroon Jahan, for appealing for calm in the local community.
In addressing crowds gathered in Dudley Road on Wednesday, Mr Jahan urged those involved in disorder to "respect the memories of our sons" by halting violence which had broken out on previous nights.
Abdul Quddoos, the elder brother of Shazad Ali and Abdul Musavir, described them as intelligent and sociable.
Mr Quddoos has said: "This happened to me in one go, two brothers, in the same place, in the same spot, gone to heaven."
He said his brothers had been claimed by Allah during the holy month of Ramadan, which had caused many people to see them as martyrs.