Wanted people screen in Birmingham after disorder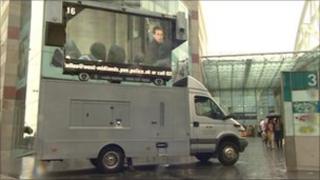 A large mobile screen showing CCTV images of wanted people is being driven in Birmingham after recent disorder.
More than 440 people have been arrested over riots across the West Midlands, but there have now been two nights of calm in the region, police said.
A Digi-Van, with a 6 sq m display unit showing more than 50 CCTV images, was being used in the city centre.
Police have been going through hundreds of CCTV images, 500 of which have been received in emails sent via the public.
Acting Det Insp Mark Rushton said: "This is the first time a van of this type has been used to display multiple images of people wanted by the police.
"Photographs of those wanted by us have appeared in the media but we are determined to use every means available to us to bring suspected offenders to justice."
Extended opening hours
The vehicle was on Bristol Road, Edgbaston, near Spar, between 07:00 and 10:00 BST.
From 10:00 until 16:00 BST it was travelling around and remaining static on High Street in the city centre close to the Pavilions Shopping Centre.
From 16:00 to 19:00 BST it was to be sited in front of the Monaco building in Bristol Street.
There have also been plans to operate the facility on Saturday after it travelled between 07:00 and 19:00 BST on Thursday and was being seen on Friday.
Thirteen people appeared before Birmingham magistrates during extended opening hours on Thursday, while magistrates in Solihull sat overnight on Wednesday.
'Open normal hours'
The court heard how a 14-year-old boy from Wolverhampton, accused of looting designer clothes and computer accessories, was escorted to a local police station by a family member who suspected he had come home with stolen goods.
Police said he was granted conditional bail including a 17:00 BST to 05:00 BST curfew at his home address.
He is due to appear at Wolverhampton Magistrates' Court on Monday.
Others, aged between 17 and 39, appeared in court accused largely of violent disorder, burglary and going equipped to steal, police said.
Nine of those defendants were now in jail, remanded into custody ahead of subsequent court appearances, while the four who were bailed must abide by strict conditions including overnight curfews, police added.
New images have been released from the disorder in Wolverhampton city centre on Tuesday.
Most of them show people believed to be involved in disorder around Queens Square.
Four people have been arrested on suspicion of murder after three men were hit by a car as they protected property from looters in Birmingham.
Haroon Jahan, 21, Shazad Ali, 30, and Abdul Musavir, 31, were struck in Dudley Road, Winson Green, early on Wednesday.
Two boys aged 16 and 17 and a man of 26 were arrested on Thursday on suspicion of murder, while a man aged 32 arrested on Wednesday has been bailed.
After another calmer night in the city, the Bullring Shopping Centre said its stores - which had closed early on previous days - would be open until 20:00 BST on Friday and open normal hours across the weekend.
"We continue to work very closely with the police to ensure that the area remains safe and ultimately attract people back into the city," a spokesman said.
A jewellers attacked during Monday night's rioting has also reopened after a four-day closure.
Youths were captured on film breaking into the Pandora store in the city centre, but police have since recovered some items taken in the raid, the firm said.