Inquests opened after men killed in disorder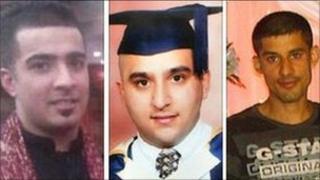 Inquests into the deaths of three men who died while protecting property from looters in Birmingham have been opened and adjourned.
Haroon Jahan, 21, Shazad Ali, 30, and Abdul Musavir, 31, were hit by a car in Winson Green on Wednesday.
Two boys aged 16 and 17 and a man of 26 were arrested on Thursday on suspicion of murder, while a man aged 32 arrested on Wednesday has been bailed.
A peaceful protest is to be held on Sunday in memory of the three men.
The event is planned for 15:00 BST at Summerfield Park in Dudley Road in Winson Green, police said.
The men were hit by the car in Dudley Road early on Wednesday.
'Respect the memories'
Police said there were concerns that other marches were arranged in Birmingham on Friday, none of which have cross-community support.
"Organisers are appealing for these events to be postponed in favour of the cross-community event on Sunday," a spokesman said.
West Midlands Police Chief Constable Chris Sims has praised Tariq Jahan, the father of Haroon Jahan, for appealing for calm in the local community.
In an appeal to crowds gathered in Dudley Road on Wednesday, Mr Jahan urged those involved in disorder to "respect the memories of our sons" by halting violence which had broken out on previous nights.
Abdul Quddoos, the elder brother of Shazad Ali and Abdul Musavir, has said both men were intelligent and sociable. Mr Ali had a degree in business administration.
Mr Quddoos has said: "This happened to me in one go, two brothers, in the same place, in the same spot, gone to heaven."
He said his brothers had been claimed by Allah during the holy month of Ramadan, which had caused many people to see them as martyrs.
Inquests into the deaths of the men were opened and adjourned on Friday afternoon.