Riots: West Midlands Police 'exhausted' after disorder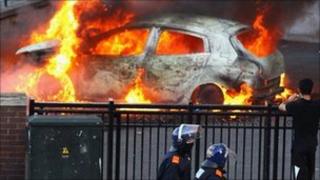 Police have been left exhausted after dealing with this week's riots, the chairman of the West Midlands Police Federation has said.
Officers began working rolling 12-hour shifts after widespread disorder began on Monday night, and have arrested more than 440 people.
Andy Gilbert said: "Officers are exhausted but determined to see the job through and see justice done.
"They should also be feeling very proud."
He added: "They have faced people with weapons and it has been a very dangerous and volatile situation."
Spending review
Mr Gilbert added that police morale had been at "rock bottom" before the rioting began and urged the government to rethink its planned spending cuts which would mean fewer police officers.
He said: "By 2015, there will be 16,000 fewer police in this country.
"The situation has changed since the spending review - the government has to change their minds now."
Police estimate between 700 and 800 people were involved in Monday night's disorder, which led to the looting of 30 shops in Birmingham city centre.