Birmingham disorder: Thousands attend peace rally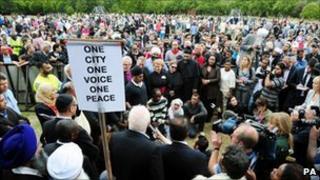 Thousands of people have attended a peace rally which followed the looting and violence in Birmingham.
Community groups arranged the rally in response to the disorder and the loss of three lives in Winson Green.
Haroon Jahan, 21, and brothers Shazad Ali, 30, and Abdul Musavir, 31, died on Wednesday as they protected businesses from looters.
Police estimated up to 5,000 people were at the rally in Summerfield Park, Winson Green.
A minute's silence was observed during the event.
'Unity and solidarity'
Religious leaders said the aim was to promote unity and to show solidarity against the rioters.
Tariq Jahan, father of Haroon Jahan, made an emotional speech, along with relatives of Shazad Ali and Abdul Musavir.
Mr Jahan said seeing the community standing together gave him strength in his heart.
He asked the communities not to let their sons die in vain.
"I hope that this community will remember them," he said.
He said he had received so much mail so many emails of support he had not had chance to respond.
"I don't know how to respond," he said. "I am one of the people. I am nobody special.
"I am not important but thank you from bottom of my heart from my wife and all our families."
'Set good example'
The Reverend Mark Ryan, of the Birmingham Christian Centre, said beforehand there was a slight risk of trouble but that it was worth taking the risk.
He said: "I think it is a great thing that all the communities want to come to say 'one Birmingham, one city, one voice for peace'."
Police said they expected the rally to pass without incident.
Dave Clayton, 65, of Oldbury, West Midlands, said he wanted to share his condolences with the families of the men who were killed.
"I think (events like these) want to be more widespread around the country," he said.
"There are other cities with problems."
Akhar Ali from Sparkhill, Birmingham, said: "I came to show the respects to the family and to share their grief.
"I hope an event like this will create unity amongst all communities and all religions."
Margaret Osahan of Edgbaston, Birmingham, said: "We have a situation where people don't respect each other.
"We have to set a good example. I hope some of the young people who were rioting are here so we can set them an example."
'Damaged young people'
West Midlands Chief Constable Chris Sims also spoke at the event, along with Birmingham City Council leader Mike Whitby.
"We are working together, politicians, faith leaders, community leaders - the desire for normality in this city is tangible," said Mr Whitby.
Before the event, Mr Sims said: "Officers have been overwhelmed by the support shown by the public and it felt a million miles from the debates apparently raging in Westminster."
Sentencing of those in court had been "justifiably harsh", he said.
But he added people must not abandon compassion for some "damaged young people who have been caught up in these incidents".
A third person was charged on Sunday evening with the murders of the three men in Winson Green.
Earlier in the day two people - a 26-year-old man and a 17-year-old boy - appeared in court each charged with three murders.
The two were remanded in custody and will appear at Birmingham Crown Court on Monday.