Minute's silence at Birmingham peace rally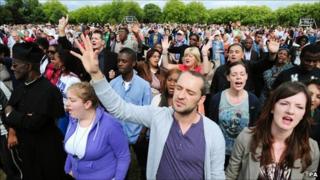 At 16:07 BST, close to where three men died as they protected businesses from looters, flags waved in the breeze as thousands observed a minute's silence.
It was a moment of reflection in the sunshine for those who descended on a Birmingham park for a peace rally. Tariq Jahan, the father of one of the men, had just been applauded on the stage.
"Thank you Birmingham for your respect and observance of that" came across loud to the assembled crowd in Winson Green as the silence ended.
As several children played on swings nearer to the outskirts of Summerfield Park, speakers and musicians took to the stage standing under the large banner "United Birmingham, One City, One Voice for Peace".
'Made a difference'
Men carried small children, and people of all ages stood silent in small groups in the crowd of about 5,000.
Some men arrived in black T-shirts bearing the words "Haroon Shazad Musavir R.I.P".
Haroon Jahan, 21, and brothers Shazad Ali, 30, and Abdul Musavir, 31, died on Wednesday.
All three worked for Amjad Hussain, 37, who has an automotive business in Winson Green.
Listening near to the stage, he said: "Today everyone's together and it will stay like this.
"It'll bring the community together and it definitely has made a difference."
People entering the park on City Road were greeted with the event's slogan on two large banners attached to railings.
With the backdrop of trees around the perimeter of the site and emergency service vehicles in the background, some people talked together within sight of the stage while others were walking in the open green space further away.
Many others simply listened to the speeches and music for up to two hours, with representatives from six faiths addressing the crowd.
The speakers also included West Midlands Chief Constable Chris Sims, city council leader Mike Whitby and Lord Mayor Anita Ward.
Young people were also given the microphone - and a voice.
Up to 25 people, including religious and community representatives, had come together to organise the initiative in response to the disorder and the loss of life.
Akhar Ali 45, from Sparkhill, Birmingham, said: "I hope for peace and prosperity for all communities.
"We are different communities. It would be boring if we were one community.
"Our colour should be humanity first."
Reyahn King, 46, who has lived in Birmingham for 10 years, said it was difficult to say how important an event such as this could be.
But she added: "It's important that people are bothered to come here today to show that they care.
"They want to demonstrate that as an individual, every single person here wants to be tolerant and respectful of everyone else.
"It's good to have many different communities here, different backgrounds, but to be honest that's what I'd expect in Birmingham."