Library of Birmingham: Work begins on outside metalwork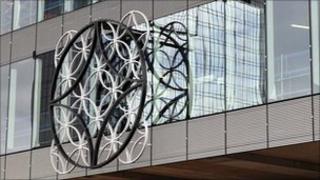 People can begin to get an idea of what Birmingham's new library will look like as work to put up the building's metal facade has started.
The sections are made of overlapping aluminium rings and will wrap around the new £188.8m development in Centenary Square.
They are being hoisted one-by-one onto the building by crane and fixed to the glazed exterior.
The new Library of Birmingham is due to open in 2013.
It will have 10 floors, with nine above ground and a lower ground floor.
The metal circle panels will extend across the building from the first to the eighth floor.
Each piece is made up of 5.4m diameter black rings with silver circles of 1.8m diameter attached.
Developers said the design echoed "the gasometers, tunnels, canals and viaducts which fuelled Birmingham's industrial growth".
Councillor Mike Whitby, Birmingham City Council leader, described the beginning of work on the facade as a "hugely exciting point" in the project.
"We can begin to visualise what the final building will look like and imagine the impact this development will have on both Centenary Square and the city as a whole," he added.