Walsall factory fire leads to evacuation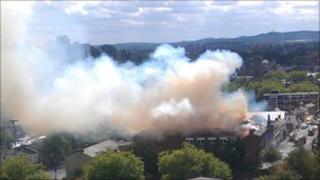 A man was rescued and about 100 people led to safety after fire broke out in a derelict tannery in Walsall.
West Midlands Fire Service said they were called to a building in Lower Forster Street at about 14:15 BST. The town's Arboretum and about 20 houses were evacuated.
Police said people who had not been evacuated from their homes should stay indoors and close windows and doors.
Drivers in the area were also asked to close windows.
They said a number of roads had been affected, causing "significant" traffic disruption.
West Midlands Police said a refuge centre was set up for people affected by the fire.