Council continues Walsall clear up after factory fire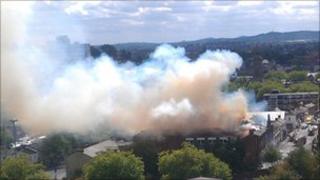 Walsall Council has been working with police and fire services overnight to clear up after a fire at a derelict tannery.
A man was rescued and about 100 people led to safety after the blaze broke out on Lower Forster Street at around 14:15 BST on Monday.
The town's Arboretum and about 20 houses were evacuated because of the fire.
The council said structural engineers were now surveying the building.
A refuge centre was set up for people affected by the blaze.
Police said the majority of those evacuated were allowed to return home on Monday night.
Walsall Council said on Tuesday that traffic engineers were out early on Tuesday to minimise disruption during the morning rush hour.
It said roads in the town centre had now reopened apart from the westbound carriageway of Littleton Street East as work continued to clear the area of debris.