Bell ringers head to Birmingham for church competition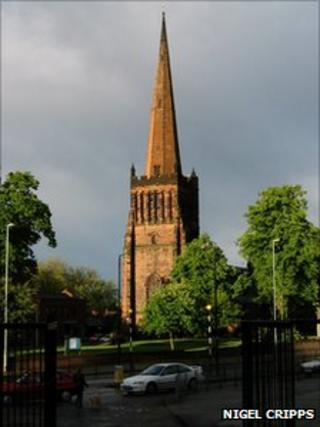 Teams of bell ringers will be in Birmingham on Saturday to take part in a competition.
They will be ringing the bells in the 15th Century tower of Aston Parish Church in a bid to win the Evesham Cup.
The competition has been organised by bell ringing society The Ancient Society of College Youths.
It will form part of a bell ringers' tour which is currently taking place around the country and includes participants from overseas.
'Unique opportunity'
Nigel Cripps, project officer at the church, said the event was a "unique opportunity for the church to welcome local and international visitors".
Mr Cripps described bell ringing as "very complex".
"It isn't a question of always ringing bells in the same order, that would be very boring," he said. "The order in which they are rung changes over a very short period of time."
Teams will be judged on the quality of their ringing.
"What they're looking for is that the bells are rung at an even pace," Mr Cripps said.
The bells at Aston Parish Church are housed in a tower that was built in 1480. The church will be open to visitors during the contest and pictures of the bell ringing will be transmitted live onto large screens.
The Ancient Society of College Youths was founded in 1637 and has an international membership.