Birmingham experts get £6.5m liver disease research funding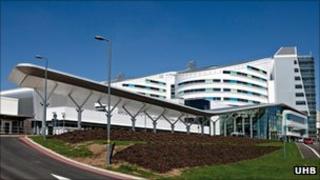 Medical experts in Birmingham have been awarded more than £6.5m to continue their research into liver disease and cancer.
The research unit was set up by Birmingham's Queen Elizabeth Hospital and the University of Birmingham in 2008.
The hospital said the new grant meant its work could continue for another five years from April 2012.
The funding was announced by the government on Thursday.
It is a share of £800m that the government is investing over five years to develop medicines and treatment across the country.
Talking about the grant, Health Secretary Andrew Lansley said: "This investment will see scientists in Birmingham contribute to the UK-wide development of exciting new science into tangible, effective treatments that can be used across the NHS."
Julie Moore, chief executive of University Hospital Birmingham NHS Foundation Trust, said the funding would "allow us to build on our existing capacity which can only benefit our patients and the NHS".