Birmingham pupil Ellie Davidson gets eight A* A-levels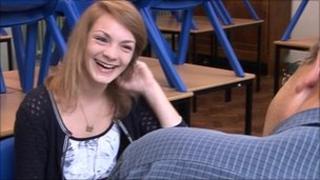 A Birmingham teenager has been awarded eight A*s in her A-levels.
Ellie Davidson, 18, received her results at King Edward VI High School for Girls in Edgbaston on Thursday.
Ellie's top grades included three mathematics papers as well as Ancient Greek and Latin, and she will now study a degree at the University of Oxford.
She said: "I worked hard and stuff and thought I'd do OK, but I never expected to do this well. It's just surpassed all my expectations."
A-level passes have risen on a national scale for the 29th consecutive year with teenagers facing an intense battle for university places.
'Consistent work'
Ellie has no such fears and admitted her secret was to avoid last-minute cramming.
"I think it's more important to work consistently hard through the year," she said. "When I came to revise I found I remembered a lot of the stuff anyway.
"But I didn't work 24-7 by any means because I do so much else as well outside school.
"I kept that up during the exams because I think it's nice to have a little break every so often. It's difficult to work solidly. I did put effort in. I tried really hard."
Ellie's mother, Shearer West, said she was "incredibly proud" of her daughter and felt it was an extremely positive story given the recent unrest in parts of England.
Ms West said: "She's worked so hard to get this. A number of these A-levels she did on her own so she didn't do them all in school.
"You see things happening in the community with rioting and that sort of thing and then you look at something like this.
'Wonderful things'
"There are a lot of very, very good young people around. They're hard working, dedicated and we're really proud she's one of those."
The headmistress at King Edward VI High School for Girls, Sarah Evans, was delighted with Ms Davidson's achievements.
"Not only has she got these incredible results, but she's done so many other wonderful things," said Ms Evans.
"She's done all this fantastic music and ballet and she's so good with other people and really wanted to help the little ones in school."